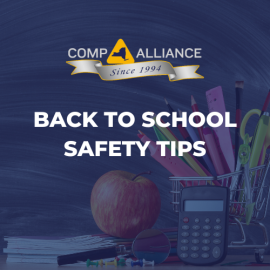 Working with Students with Disabilities
Back injuries due to unsafe lifting techniques continue to be one of the most common injuries for workers' compensation claims. For our school district members, working with students with disabilities can present unique challenges. Beyond typical teaching demands, special education staff may manage lifting, moving, and treating their students. It is essential to be mindful of safety, avoiding injury or illness, while tending to the needs of students.
Two common causes of staff injuries are:
overexertion related to lifting, moving, and transferring students,
and aggressive behavior including hitting, biting, and pulling.
Lifting
For students with physical disabilities, it is very important to have a lifting/transfer plan. The plan should include:
Environment

Available space for transfers/lifts
Equipment
How equipment interacts with other equipment
Storage of equipment

Staff

Number available
Individual capabilities

Budget

Availability of mechanical lifts

Student characteristics

Ability to participate
Muscle tone
Height/weight
Behavior/cooperation
Precautions
Involuntary movements
Voluntary movements

Training

Annually and as needed
Documentation of training
Comp Alliance loss control staff can assist with this program. Remember to develop and review any lift/transfer guidelines and resources before dissemination to school staff. Integrate the lift/transfer process into the student's IEP/504 plan, IEP goals, supplementary aids, and services. Perform environmental assessments including classrooms, bathrooms, physical education, and community. Prioritize high-risk students and their classroom environments. Targeted school-staff training in safe lifting/transfers should be provided. Remember to always document staff participation in training for compliance and risk management purposes. Partner with transfer/lift vendors and schedule trials of their equipment with school staff.
Aggressive Behavior
Consider Therapeutic Crisis Intervention for Schools (TCIS) techniques to help students regulate and manage their emotions. TCIS is a crisis prevention and intervention program, created by Cornell University, designed to teach staff how to help at-risk children learn constructive ways to handle crises. Special training is required of staff for TCIS compliance. Trainees learn how to:
create a safe, caring, and supportive environment,
proactively prevent crises from occurring,
de-escalate students in crisis,
effectively and safely manage an acute crisis,
reduce the risk of harm to students and staff if physical intervention is necessary,
and improve students' coping strategies when faced with stressful situations.
A collaborative working relationship between the teacher and the teaching assistant, or paraprofessional, incorporating teamwork, flexibility, and communication is pertinent for the success of the student. These collaborations will help to keep staff safe from overexertion injuries and aggressive interactions with students. If you have any questions, reach out to Robert Blaisdell, Director of Loss Control, at rblaisdell@wrightinsurance.com.