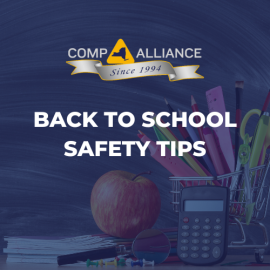 Working Safely with Limited Staffing
There are about 220,000 public school teachers in New York State instructing roughly 2.5 million children from kindergarten to 12th grade. Additional school staff is comprised of custodians, maintenance, administration, bus drivers, and more. Despite these various roles, staffing shortages can occur and create many problems, including compromising the safety of employees.
School districts are not immune to the labor shortages affecting many industries in New York and nationwide. It is well known that when employees work with reduced staff it can lead to:
more frequent injuries,
lost productivity,
poor morale,
mental stress,
poor physical health,
decreased work capacity,
poor work quality,
absenteeism,
and early retirement.
Employees may be injured from overexertion and repetitive stress when too few employees are available. If employees attempt to do too much or work outside their comfort zone, they can strain themselves. This can result in musculoskeletal disorders with symptoms including swelling, numbness, stiffness, chronic pain, or the permanent loss of mobility in muscles, tendons, ligaments, and joints.
Working shorthanded leaves fewer eyes and ears to spot safety concerns that might otherwise be corrected. This is especially true if inexperienced workers make up the remaining crew, as it's less likely they will notice dangerous conditions or practices. Not having enough qualified workers can also cause key safety practices and procedures to not be followed, as work may be rushed in an effort to be timely.
Mental health consists of an individual's emotional, psychological, and social well-being. In times of distress, individuals may suffer from poor mental health. Emotions associated with poor mental health include grief, stress, sadness, or anxiousness and are likely to cause workplace injuries. Employees dealing with mental health struggles are often less focused, engaged, and unaware of potential safety hazards, resulting in poor decision-making and unnecessary risk-taking.
Positive practices during labor shortage situations include:
Understanding when and where shortages are present, including facilities and transportation.
Encouraging cross-training staff so they can contribute outside of a specific department.
Monitoring employees for stress and advocating for solutions.
Supervisors assisting at the ground level.
Being proactive; informing staff of the conditions and encouraging them to monitor their stress.
Encouraging staff to report issues, noting changes to their physical and mental health.
Increased workload and stress are some of the most immediate consequences of a labor shortage. When your school does not have enough workers to meet its operational demands, employees are pressed to take on further duties, resulting in stress, physical injury, burnout, and decreased productivity. Prioritize your employees' well-being through clear and open communication and on-the-ground support. If you have any questions, please contact Robert Blaisdell, Director of Loss Control, at rblaisdell@wrightinsurance.com.