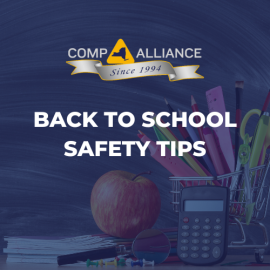 Bus Driver Safety 101
With our final safety tip before schools open, we would like to acknowledge the hard work bus drivers do to keep children safe to and from school, during field trips, and athletic events. Bus drivers are often the first to interact with children as they head to school and that interaction can set the tone for the rest of the day. The health and safety of transportation staff is vital to a smooth school year.
Both the physical and mental health of transportation staff is essential to the overall effectiveness of the department and, ultimately, the school district. Bus drivers must meet certain physical requirements including an annual physical examination and the Physical Performance Test (PT 900), completed semi-annually at minimum. Although the work of a school bus driver might not seem very physical, at times it can require strenuous activity that may result in injury.
This could include:
aiding injured children,
involvement in a motor vehicle accident,
interjecting in a confrontation,
performing a pre-trip inspection,
installing and removing equipment (i.e., sports equipment, bags),
maneuvering children with special needs,
and cleaning the bus.
The mental stress of driving a bus also has an impact on a bus driver. Maneuvering through traffic, being on schedule, counting children at pick-up and drop-off, monitoring behavior, and dealing with parents at stops all while aiming to maintain a positive influence on students can be a lot for anyone. Performing these tasks ten times each week for an entire school year can be daunting and add stress to a driver's life. A good transportation department will focus on positive driver morale and introduce measures to continuously improve driver experiences. This involves:
listening and providing honest communication.
instituting a driver reward program.
improving bus driver safety.
offering mental awareness programs.
upgrading training opportunities.
updating the fleet. (Newer, safer vehicles or safety devices)
improving facilities. (i.e., housekeeping, updating driver rooms, improving lighting)
automating job functions such as pre-trip inspections.
offering school-based opportunities and events.
improving safety in operations. (Installing cameras, improving lot security, etc.)
offering fun activities between routes.
There might be additional opportunities for physical and mental health improvements in your transportation department. Ask your employees what improvements they would like to see. You may be surprised at how easy it can be to improve morale in the department with upgrades around the bus garage. Contact the Comp Alliance Director of Loss Control, Robert Blaisdell, at rblaisdell@wrightinsurance.com with questions.