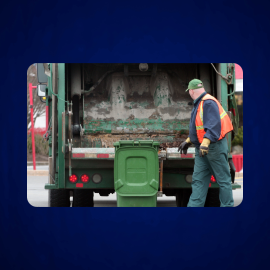 According to the Solid Waste Association of North America, 46 sanitation workers in the United States and Canada died from on-the-job injuries in 2022, a 64.3% increase from 2021. Municipal operations that include any type of garbage collection risk injuries like cuts, scrapes, needle sticks, slips, trips, falls, and injuries from vehicles. It's important to exercise safe work practices to avoid issues such as bloodborne pathogen exposure, strains, back, soft tissue, knee, hip, and even head injuries.
Lifting Injuries
Causes include lifting many objects continuously over an extended period, lifting heavy objects, twisting while lifting, and failure to lift safely.
Corrective measures include taking breaks between lifting objects, testing weights before lifting with a limit of 40 pounds or less, using mechanical assistance like rolling totes or canisters to move objects and minimize lifting, moving objects with the legs and not with the back, training, and practicing good lifting techniques.
Slip, Trip, and Fall Injuries
Causes are related to slick, uneven walking surfaces, obstructions in surfaces like curbing or manholes, unsafe footwear, and unsafe movements.
Corrective measures include requiring staff to wear proper footwear with non-slip soles, limiting movement speed, awareness of walking conditions (rain, snow, ice, wet leaves, etc.), avoiding curbing and manholes when possible, and working in good lighting conditions to visibly note obstructions or hazards.
Riding Injuries
Causes include falling off a moving garbage truck, traveling too long on a truck's exterior, slipping off slick steps or handrails, and being struck by other vehicles.
Corrective actions include adopting safe riding procedures, improving communications between the drivers and pickers or collectors through hand signals, using well-gripping gloves to grasp the hand holds, wearing proper footwear, limiting time spent riding outside the packer, controlling speeds of travel to 10 mph or less, avoiding drastic vehicle maneuvers, slowing down while cornering, and prohibiting outside riding when the vehicle is backing.
Cuts and Needle Sticks
Causes include handling sharp objects and handling loose bags which may contain needles.
Corrective action includes avoiding handling sharp objects, wearing thick, heavy-duty gloves like Kevlar or other puncture-resistant gloves, and avoiding handling bags of garbage by only using totes.
An additional area of concern for sanitation workers is the potential to be struck while the vehicle is backing. Packers should never back up when people are outside the vehicle unless proper spotters are in place. Pickers should wear reflective or highly visible clothing to make them more visible to traffic as they work closely around other moving vehicles.
Improving safety practices in your sanitation operations will help to reduce workplace injuries in this department. Please reach out to the Comp Alliance Risk Management Director Robert Blaisdell for additional information at rblaisdell@wrightinsurance.com or (518) 330-8591.